Most every person drinks coffee or tea on a regular basis and most have a sugar canister of some kind that sits near where they make their beverage of choice. Some people have small plastic canisters for it and others simply use their large sugar canister that they scoop out of when they are making a drink. Would you like to dress up your coffee area? That is what a pressed glass sugar bowl can do for you. It can make the area around your coffee pot or water steamer look great.
Pressed Glass Sugar Bowls
A pressed glass sugar canister is another way to pretty up your home without spending a lot of money. It may also free up your counter space since they are so small in comparison to other canisters. The canister can be purchased in a matched set so that you have a sugar bowl and a creamer bowl that are identical in nearly every way. Some bowls have spoons that go along with them. In every case, if you are like most people, you can keep your large sugar canister in the cabinet and use the smaller one for your coffee. It is also a great addition to a table where you and a friend may sit down to enjoy a cup of coffee or tea after dinner or in the mornings.
The Styles Available
When looking at pressed glass, you have a variety of patterns to choose from. This makes it easier for people to find a style that they love more than all others. There are different sizes and shapes, but most of them hold true to being small decorative pieces. The glass bowls are associated with beauty and elegance because of the way that they sparkle. They also make great gifts for people who drink a lot of coffee and tea.
What Will You Do with a Sugar Bowl?
Not everyone drinks tea or coffee. Not everyone will need a sugar bowl that is small.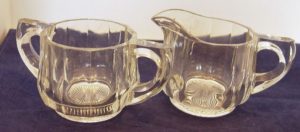 However, some sugar bowls can be used for other things as well. Larger bowls may be suitable as a candy dish for hard candies. You can put a favorite spice in them if you want to. The list really goes on and the only key is that you want something to be within easy reach. If you choose a small canister, you will have fewer options, but most everyone can come up with some way to use it, even if it is simply to put it up on a shelf and bring it out for special occasions.