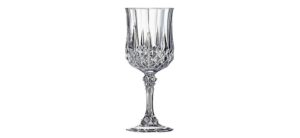 A goblet is a drinking vessel that has a bowl to hold your beverage, a stem, and a fluted base. They are available in all shapes and sizes. They may have a variety of designs on them. They are often used as glasses to sip from and they are associated mostly with elegance.
History of a Goblet
Throughout history, people have used goblets for a variety of things outside of a stemmed cup for drinking. They were often used to drink wine during a ceremony of some sort. Many people attribute their beginning to religious ceremonies. They have been made from a variety of things including earthenware, metal, glass and pottery. If there was a goblet made of precious metals or glass, it was a symbol of wealth. Only the higher classes would use them.
These goblets or Chalices were often available in a variety of colors. Some could be made of silver or pewter. There were people who had goblets that were covered with jewels. Pressed glass goblets allowed people to imprint them with unique patterns that would sparkle almost as much as the wine that would be inside of it.
Would You Enjoy Using a Goblet?
Today, a goblet isn't reserved for the upper class. Anyone can use them and many people do, even though many will call them a "wine glass".
These glasses may not have jewels embedded in them, but they are still beautiful pieces of glass that serve a purpose to the people who love them. We still enjoy seeing them sparkle if we choose a pressed glass style of goblet and they can turn a special dinner with wine into something fancier.
There are people who collect a variety of goblets. Many people choose to avoid the sets of four or more because when you choose different patterns, everyone at a dinner party can easily find the goblet that they were using. If you do not host dinner parties with a lot of people, you may still opt to have a matched set, but it is a personal preference for everyone. Some people simply like the variety, especially if they will keep their goblets in a china cabinet.
Choose Your New Goblet
There are more than 3,000 patterns of pressed glass available. However, not all of them are available in a goblet form. Since pressed glass
really did not become something we could create, many of the pressed glass goblets were first invented in the 1800s with 1880 being the peak of pressed glass history. This means you can choose from a large variety of new goblets and you can say goodbye to boring, simple, wine glasses. Which one will you choose or will you be someone who chooses a variety of styles?