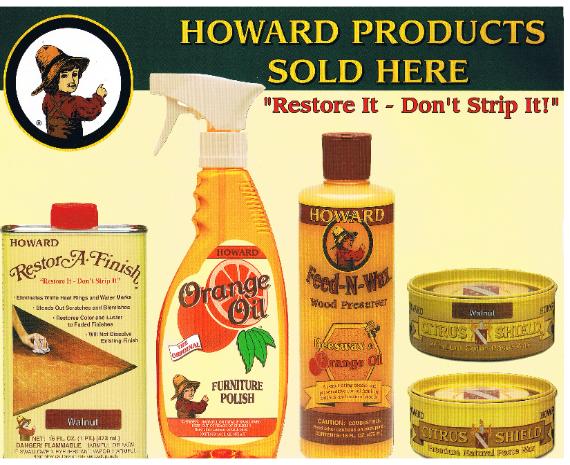 If you have fine glass pieces, you will want a cleaner that will clean without damaging. The same can be said for silver, pewter, and other accents that may be on your pressed glass pieces. That is where Howard Products will come in handy. They have a variety of cleaning products available and all of them are designed to protect the antiques that you love. Many of the products can be used on wooden surfaces, as well as other surfaces, to repair any damages that may occur to them through simple everyday mishaps.
About Howard Products
Howard Products is a company that is dedicated to the preserving an original wood and other surfaces so that the authenticity remains true to its original condition, while ensuring that it maintains the "antique" look and value. It is a product that has been used and loved since 1969 and it is a product that is trusted completely by all who are in the antique industry. It is usable on all types of wood.
About the Products
Restor-A-Finish is one of the most popular types of wood cleaner and restorer. It can eliminate white heat rings or watermarks, blend out scratches and blemishes, and even restore color to a faded finish. With all that it can do; you can avoid the stripping, which will lessen the overall value of a wooden antique.
There are also furniture polishes available to ensure that your wooden antiques maintain a high gloss finish that will make them beautiful. There are conditioners for your butcher blocks, silver polish, copper and brass polishes, leather cleaners, sun shields, and more.
How to Use Howard Products
When you use Howard Products, you do not have to put forth a lot of effort to clean your wooden surfaces. Often, you simply blend out the areas that do not look as good as you want for them to and it will permanently erase the damages that are there. You can do this using a soft cloth or a fine steel wool pad. You should never apply the product to the wood, but you can put it on a cloth and then rub out the imperfections. When rubbing out a bad area, you should rub with the grain of the wood.
If you are trying to revive a faded piece of furniture, you can clean it with the Restor-A-Finish and then polish it to bring the life back to your furniture. When you are dealing with blistered finishes, press down while you are using the Restor-A-Finish and then follow up with Feed-N-Wax.
Any issues that you have with your antiques can be solved without stripping away the natural color of the antique. That is why the motto of the company is "Restore It – Don't Strip It". If you have a tough stain or issue, you can contact the company to find out what they recommend you use.